Updating friends old & new
Aldourie Castle and Love Brand & Co events
It was great to have the opportunity to introduce the Highlands & Islands Environment Foundation (HIEF) to new audiences and to share progress to date with those already familiar with our work at two unique events: an afternoon reception at Aldourie Castle and an evening presentation at Love Brand & Co in London.
Both events provided ideal locations to bring people together to share details of some of the grants HIEF has awarded and the impact the projects have had, for their local communities, the wider population and for nature.  Against the backdrop of increasing concern and anxiety about the climate and biodiversity crises we currently face, both events were timely reminders of the power of positivity and much needed beacons of hope.
Sincere thanks to our respective generous hosts, Anders Holch Povlsen at Aldourie Castle and Oliver Tomalin at Love Brand & Co.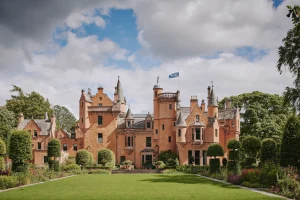 Aldourie Castle reception
Mid-August, key donors and friends of HIEF were treated to a private guided tour of the beautifully re-designed gardens and sympathetically refurbished castle and outbuildings at Aldourie Castle.  
The weather was kind as we began our visit with some light refreshments at The Steadings, a beautifully converted former stables and milking parlour in the grounds of the castle.  There was then a brief introduction from Hugh Raven, co-founder and chairman of HIEF, and a foundation update from Sally McNaught, Executive Director, before Tom Stuart–Smith, renowned landscape architect, gardener and writer, shared his rationale behind the re-design of the gardens at Aldourie.  
A leisurely stroll through the walled garden to the castle, via the sympathetically restored boathouse, provided an excellent opportunity to see first-hand how well Tom's work dovetailed with the castle for the benefit of both people and nature.  
Our visit ended with tea, coffee and cake at the castle and an opportunity to thank our generous host, Anders Holch Povlsen, in person.
The walled garden, Aldourie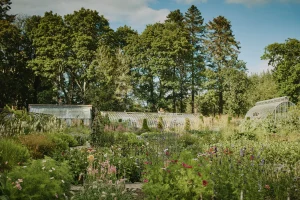 The boathouse on Loch Ness, Aldourie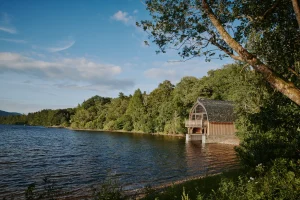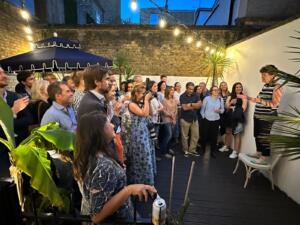 Love Brand & Co presentation
In early September, at an event generously hosted by Love Brand & Co at their Chelsea store in London, we had a very timely opportunity to share the details of some of our amazing HIEF grantees and their projects with an audience of key supporters.  Alongside the Executive Directors of our sister foundations in Lamu (Kenya), Devon, Greece and Malta, Sally McNaught, Executive Director of HIEF, gave a quick-fire five-minute speech celebrating hopeful stories of local nature regeneration.
Coming so close on the heels of a summer characterised by extreme weather events including droughts, wildfires, floods and earthquakes, not to mention government backtracks on climate commitments, it was refreshing to hear about the very positive difference community-led projects can and do make in the on-going battle to restore and regenerate nature.
Thank you for hosting us all Oliver Tomalin and Love Brand & Co.