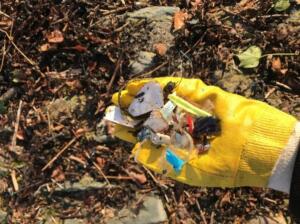 Grants
Marine & coastal
The GRAB Trust: Beaches and Marine Litter Project (BMLP)
£10,000 awarded
The GRAB Trust (Group for Recycling in Argyll and Bute Trust Limited) was founded in 1999 & works to encourage environmental awareness, recycling & reuse activities with communities across Argyll & Bute.
The BMLP is an on-going project specifically tackling the persistent challenges posed by marine plastic litter.  Communities are provided with the equipment & support (eg removal of litter once collected) to organise regular beach cleans throughout the year.  The project is part-funded by the Lorn & Oban Reuse Initiative (LORI), a social enterprise which collects/refurbishes/sells donated furniture, thus preventing it going to landfill whilst also providing employment & training within the community.
This grant is for a contribution to the BMLP programme for one year.