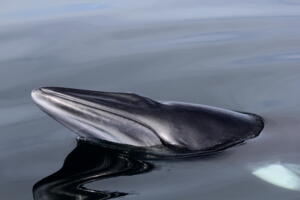 Grants
Marine & coastal
Hebridean Whale & Dolphin Trust (HWDT) – 30 years of minke whale research in the Hebrides
£12,000 awarded
HWDT collect citizen-science based data to inform conservation of cetaceans & their data has already been used successfully to lobby for the establishment of the Sea of Hebrides MPA.  HWDT began collecting data on minke whales in the Hebrides in the 1990s & now have the longest continuous data set & photographic catalogue on the species.
Overall, Scottish seas are currently classed as being in an 'unfavourable' state even though they are critical to conservation & the conservation status of minke whales is 'unknown' due to the dearth of data.  Although the MPA was created in 2020, there are no management measures yet in place – the Scottish Government has announced it will run a consultation on appropriate management measures in late 2023.   To ensure that whatever measures are selected are effective, HWDT plan to analyse, peer-review then publish their data to both inform the debate but also to engage local stakeholders who will contribute to the consultation.
This grant is for the analysis & dissemination of the data.